History of the Indian Navy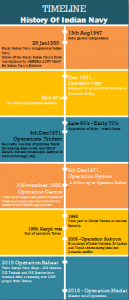 On 26 January 1950, when India became Republic, the prefix 'Royal' was dropped and it was redesigned as the Indian Navy. On 26 January 1950, the Crown of the Royal Indian Navy's Crest was replaced by Ashoka Lion Motif for Indian Navy's Emblem.
Indian Naval ships were deployed for action for the first time in liberation of Goa in Dec 1961. The name of operation was "Operation Vijay".
In mid 60's the addition to Indian Navy was an oil tanker acquired from Germany.
Indian Navy acquired faster & more sophisticated ships to meet the maritime defense needs & also to cope with changing geo-political situation in Indian Ocean.
On 4th Dec 1971, the Indian Navy successfully executed operation trident. To commemorate this very successful action, since 1972, Navy Day is being celebrated on 04 December. And the missile attack on Karachi harbor during the India-Pakistan war of 1971 and to pay homage to all the martyrs of the war.  This attack was so devastating that sank a destroyer, minesweeper & ammunition supply ship of enemy country (obviously Pakistan). This was followed up by operation Python on 8th of Dec.
On 3 November 1988, Operation Cactus- Indian paratroopers rescued the President of Maldives and soon returned control of the capital to the Maldivian government.
In 1993, Indian navy took part in United Nations operations in war-torn Somalia.
The western and eastern fleets were deployed in N. Arabian Sea as part of operation Talwar during 1999 Kargil war.
In 2015 Operation Rahaat, Three Indian Navy Ships – INS Mumbai, INS Tarkash and INS Sumitra have returned after evacuating over 3,000 people from Yemen.
Operation "Madad" was launched by the Southern Naval Command at Kochi. The purpose of the mission was to assist state administration & undertake disaster relief operations due to unprecedented flooding in various parts of India.