Best strategies to crack NDA & NA written exam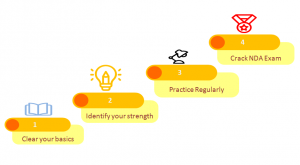 I am sure many of you aspire to become a proud officer in the Armed Forces (Army, Navy or Air Force). Further more, to accomplish this goal there are many hurdles which you have to overcome to be a part of such respected and highly honored career field. The best way is Passing NDA & NA written exam.
Let's see how to crack the NDA & NA exam
To become a Gentleman Cadet (GC) the first step is to crack the written exam of NDA & NA. It is a difficult exam which requires a good planning & execution.
Step 1. Preparing for Paper 1 - Mathematics
Step one is going through & studying the NDA & NA exam syllabus thoroughly. This can be done by
Brushing up on your previous knowledge & basics; School syllabus along with 11th & 12th std too.
Identifying your strength& improve them.
Analyze previous year question papers, because this helps to understand what type of questions are asked on which content & further more helps you to understand the scope of such questions based on content.
These three things will help you build upon your strategy by planning how to study for the same. After analyzing the previous year question papers & studying the syllabus figure out what content is focused on. e.g. 15-20 questions on Stats & Probability . In this way you will be able cover 120 questions within 150 minutes.
In this way if you cover the syllabus then definitely you will crack NDA written exam. For this make sure you select one source & Don't use too many books.
Book – Mathematics for National Defence Academy (NDA) & Naval Academy by R.S. Aggarwal.
Practice ! Practice ! This is the only way Gentleman you'll be able to pass NDA written exam in first attempt . 
Step 2. Preparing for Paper 2- GAT
It comprises of many Disciplines and constitutes many subjects. Let's talk about each one by one.
Part A: English
Number of questions -50 ; Marks-200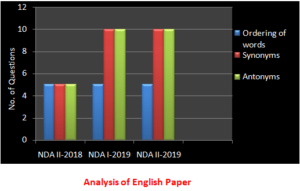 How to prepare:-
Read newspaper on regular basis, give emphasis on editorial section.
Learn & study about synonyms, phrases & new words from the news paper.
Practice ordering of words in sentence, read synonyms & antonyms from previous year papers.
Part B: Section A – Physics
No. of Questions-25 : Marks-100
How to prepare:-
Read 6th-10th std science book ( Physics section) of your school education irrespective of board you appeared for. This will help you to your basics concepts clear & strong, furthermore read 11th & 12th standard Physics book.
Focus on high scoring topics like – Optics, Heat, Mechanics, Current, Sound.
Note down all the important concepts & points & read it again and again, Don't mug it up.
For better result try testing yourself by attempting previous year question papers.
Section B & C – Chemistry & Biology
No. of Questions-25 : Marks-100
How to prepare:-
If possible try to follow same path as that for studying physics.
Read Arihant Pathfinder & Solve previous year questions.
Section D:- History & Polity
No. of Questions-18: Marks-72
History is vast subject & A bit difficult to cover the whole subject.
How to prepare:-
Refer & read NCERT history book from 6th-10th std.
If possible refer and read Tamil Nadu state history book of 11th & 12th std.
Focus more on Indian National movements.
Section E:- Geography
No. of Questions-25 : Marks-100
How to prepare:-
Refer & read NCERT Geography book from 6th-10th std, also refer 11th std NCERT books, because almost 80% questions directly come from these books.
Solve previous year question paper.
Note & study more about topics like- Solar system, wind system, Ocean currents etc…
Also Kindly refer Atlas while reading geography topics.
Section F:- Current Affairs
No. of Questions-12 : Marks-48
You, young aspirants should always be aware & up to date regarding the current events & Reforms going on in the country & the world.
How to prepare:-
Read CSR magazine. It provides ample of information& Keeps you well versed about the current affairs.
Read newspaper ( Indian Express).
Read defense related blogs on Livefist Defence by Shiv Aroor . 
Step 3- Physical & Mental health
Lastly, My fellow aspiring GC, along with your intellectual knowledge, it is even more important to focus on mental, physical & emotional health.
Do regular exercise, Play sports like basketball, football, boxing, swimming.
Work on you core building.
Do yoga as it helps your mind along with your body stable.
1. Take adequate rest. Before leaving home, check that you have everything that you will need- exam hall ticket, ID etc.
2. Keep yourself calm and compose.
3. Be confident & believe yourself.
4.Read Question paper carefully  & formulate the strategy. Remember "Slow is Smooth, and Smooth is Fast".
5.Don't waste your time on difficult questions.
One last parting message, I would like to give you young aspirant is to be consistent. No matter what, Always give your 100% & don't keep any fears or previous failures while doing so.
I sure hope that all that I have written in this article will be helpful to you to crack NDA exam as well as SSB.
I wish you all the luck and hope that you achieve your goal of being glorified person in your service to the country.
Thank you for reading this blog. If you want more help free feel to leave comment, whatever questions you have I will respond to it.
If you liked this blog then share it, tell your friends about it.
Jai Hind !
Indian Air Force Rank Structure read more…